Welcome to First Presbyterian of Vicksburg
We're so excited that you are considering FPC as your new church home.
Our Mission
Our mission statement is, "To Know Christ and Make Him Know, We value the Lordship of Jesus Christ, Biblical teaching and preaching, prayer, fellowship, worship and relationships. Please take a few moment to review the information on this website. You will find that our ministries are varied and exciting. God has a plan for you, and we have a community for you. You are welcome here!.
You Summer Trips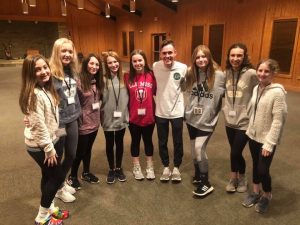 Its time to go! Please sign up and invite your friends. The deadline to sign up for trips is May4th.
Orlando Family Mission Trip
Who: All Ages
Date: June 13th– 19th
Where: Orlando, FL
Info: https://www.serveorlando.org/
Cost: $405
RYM – High School Beach Trip
Who: Rising 9th graders – rising 12th graders
Date: July 5th-9th
Where: Panama City Beach, FL
Info: www.rym.org/hsfl1
Cost: $435

The Great Escape
Who: Rising 6th graders – rising 12th graders
Date: July 26th-31st
Where: Florence, MS
Info: www.ycmhome.org/events/
Cost: $160
Sunday School
We have begun meeting Sunday School classes again with success! We will follow guidelines for social distancing and wear masks as we learn about our amazing God through the study of His Holy word!!
Classes available are:
Preschool—3,4 and 5 year olds
1st and 2nd grade
3rd and 4th grade
5th and 6th grade
Please plan to join us each Sunday morning at 9:30!
Welcome
No matter who you are, where you are from, where you are in your personal faith journey or past church experience, you are welcome and wanted at First Presbyterian Church.
God is good, all the time!
Pastor Tim
Confirmation Class 2021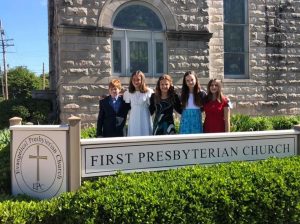 Annslee Virginia Averett
Evella Kathryne Fairley
April Kathleen Herrle
Lanier Louis Lambiotte
Lachlan Klaus Lampkin
Carrie Rebecca Smith
Vacation Bible School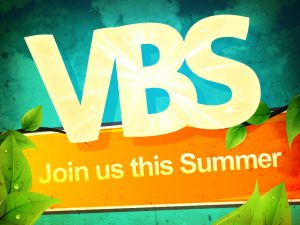 We are so excited to be planning a Marketplace Vacation Bible School this summer with Crawford Street United Methodist Church! The dates are June 14—18th! We are limiting the number of children this year, so mark your calendar! Registration will be open to church members and friends only on Sunday, May 2nd! Registration forms are on the table in Ward Hall! Wish Board for VBS supplies is up in Ward Hall also! If you are interested in volunteering, please let Diane know! Our focus this year will be Philippians 2:10, Jesus, King of Kings!
Listen Live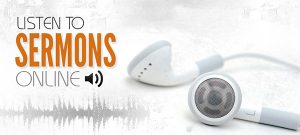 Because He lives, I can face tomorrow.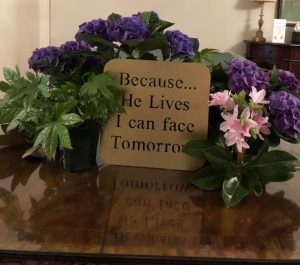 "Come to me, all you who are weary and burdened, and I will give you rest. Take my yoke upon you and learn from me, for I am gentle and humble in heart, and you will find rest for your souls. For my yoke is easy and my burden is light." Matthew 11:28-30 (NIV) Because He lives, All fear is gone. "Peace I leave with you; my peace I give you. I do not give to you as the world gives. Do not let your hearts be troubled and do not be afraid." John 14:27 (NIV) Because I know He holds the future. "For I know the plans I have for you," declares the Lord, "plans to prosper you and not to harm you, plans to give you hope and a future." Jeremiah 29:11 (NIV) And life is worth the living just because He lives."I have come that they may have life, and have it abundantly." John 10:10 (NIV) We have the blessed assurance that no matter what we go through here on earth, He is always with us. Nothing can separate us from His love. We need not fear death, either, because we who have accepted His marvelous gift of salvation are promised abundant eternal life with Him. Life truly is worth the living, because He lives! 
Paper Products Drive
Presbyterian Women are conducting a paper products drive for the Warren County Children's Shelter and Vicksburg Family Development during the month of May. This constitutes our last service project for the current year. Please deliver items such as paper towels, toilet tissue, facial tissue, napkins, plates, bowls, etc. to the library cubby any time before June 1. Both agencies are always so very appreciative of our church's generosity.
Upcoming Events
Mon

31

Tue

1

Wed

2

Thu

3

Fri

4

Sat

5

Sun

6
Mon

7

Tue

8

Wed

9

Thu

10

Fri

11

Sat

12

Sun

13
Mon

14

Tue

15

Wed

16

Thu

17

Fri

18

Sat

19

Sun

20
Mon

21

Tue

22

Wed

23

Thu

24

Fri

25

Sat

26

Sun

27
Mon

28

Tue

29

Wed

30

Thu

1

Fri

2

Sat

3

Sun

4
No Events

No Events

No Events

No Events

No Events