Welcome to First Presbyterian of Vicksburg
We're so excited that you are considering FPC as your new church home.
Our Mission
Our mission statement is, "To Know Christ and Make Him Know, We value the Lordship of Jesus Christ, Biblical teaching and preaching, prayer, fellowship, worship and relationships. Please take a few moment to review the information on this website. You will find that our ministries are varied and exciting. God has a plan for you, and we have a community for you. You are welcome here!.
Serve Orlando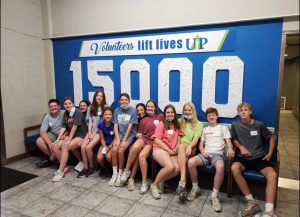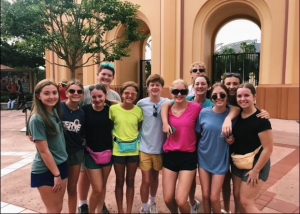 Serve Orlando was my first mission trip and my first youth trip. It was an amazing
experience. I learned so much about helping others in need. Being on this trip really opened
my eyes and I saw how many people need our help.
     First, we went to a homeless shelter and helped clean up for them. We also got to com-
fort and play with the homeless preschoolers there. That was such an amazing experience. We
helped stock a food pantry, and that was really fun. We served dinner to homeless people on
the last night. All the people there were so nice and grateful. Going to these places really
made me want to start helping those in need more.
     Each day after serving those in need we had amazing dinners, worship, family time,
and then game time. During family time I learned about others in our group, and I feel like I
have 14 people I can tell anything to. We all became so close. The worships were amazing,
too. I learned new songs and to be bold. Every night our game always connected us to God.
I've memorized so many verses from Acts. A lot of us, including me, have gotten better at
praying out loud now. This trip made me realize how much God loves me and that we need to
share that. We learned so much and I definitely got closer to God, not only during worship but
everyday serving.
     I am so grateful for Pastor Josh, Mrs. Stephanie, and most of all our church family. I'm
so grateful I got to experience this amazing trip, and I'm going to do it again as soon as there
is another opportunity. There was one night we all expressed our feelings to each other and
now I feel one hundred times closer to Pastor Josh and everyone else there. I'm so happy I
got to go on this trip, and I'm so grateful for the church because all of you made this possible
for us.
Thank you.
Annslee Averett
Welcome
No matter who you are, where you are from, where you are in your personal faith journey or past church experience, you are welcome and wanted at First Presbyterian Church.
God is good, all the time!
Pastor Tim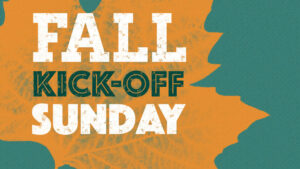 Our Fall Kick-Off will be on Sunday, August 22.
The kids K-6 will be gathering together in the Chapel for Sunday School at 9:30.  Adults will meet as usual in their respective classrooms.  There will be a table out in Ward Hall with some reformed, quality lesson materials for Sunday School classes and small groups to select appropriate material to use!  Please feel free to talk to Tim or Josh if you have any questions about material for your group.
There will also be a table to place orders for a new FPC T-Shirt!
After worship, our church family will gather downstairs in Mansell Hall for a meal!  The menu will include grilled chicken, potato casserole, green beans, baked beans, rolls and yummy desserts! Please visit the link below to make a reservation for your family. Donations will be accepted.  Reservations will be closed on Tuesday, August 17.Sign Up Here
Looking forward to gathering as a church family for food and fellowship!
Confirmation Class 2021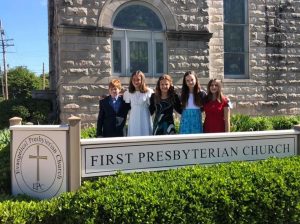 Annslee Virginia Averett
Evella Kathryne Fairley
April Kathleen Herrle
Lanier Louis Lambiotte
Lachlan Klaus Lampkin
Carrie Rebecca Smith
Listen Live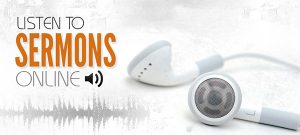 Because He lives, I can face tomorrow.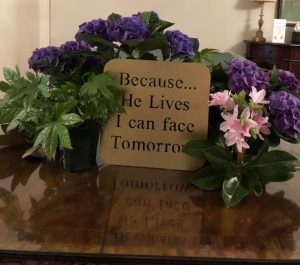 "Come to me, all you who are weary and burdened, and I will give you rest. Take my yoke upon you and learn from me, for I am gentle and humble in heart, and you will find rest for your souls. For my yoke is easy and my burden is light." Matthew 11:28-30 (NIV) Because He lives, All fear is gone. "Peace I leave with you; my peace I give you. I do not give to you as the world gives. Do not let your hearts be troubled and do not be afraid." John 14:27 (NIV) Because I know He holds the future. "For I know the plans I have for you," declares the Lord, "plans to prosper you and not to harm you, plans to give you hope and a future." Jeremiah 29:11 (NIV) And life is worth the living just because He lives."I have come that they may have life, and have it abundantly." John 10:10 (NIV) We have the blessed assurance that no matter what we go through here on earth, He is always with us. Nothing can separate us from His love. We need not fear death, either, because we who have accepted His marvelous gift of salvation are promised abundant eternal life with Him. Life truly is worth the living, because He lives! 
Sunday School
We have begun meeting Sunday School classes again with success! We will follow guidelines for social distancing and wear masks as we learn about our amazing God through the study of His Holy word!!
Classes available are:
Preschool—3,4 and 5 year olds
1st and 2nd grade
3rd and 4th grade
5th and 6th grade
Please plan to join us each Sunday morning at 9:30!
Upcoming Events
Mon

30

Tue

31

Wed

1

Thu

2

Fri

3

Sat

4

Sun

5
Mon

6

Tue

7

Wed

8

Thu

9

Fri

10

Sat

11

Sun

12
Mon

13

Tue

14

Wed

15

Thu

16

Fri

17

Sat

18

Sun

19
Mon

20

Tue

21

Wed

22

Thu

23

Fri

24

Sat

25

Sun

26
Mon

27

Tue

28

Wed

29

Thu

30

Fri

1

Sat

2

Sun

3
No Events

No Events

No Events

No Events

No Events