YOUTH EDUCATION AND ACTIVITIES
SUNDAY SCHOOL
Each Sunday grades 7-12 gather downstairs in the game room where they review their Sunday School curriculum. This includes discussion questions, scripture, videos, and games/activities.
Fusion
Monday nights, in the Large Meeting Room at the YMCA on Clay St from 7:15pm – 8:15pm. We will join Crawford Street UMC, Holy Trinity, and Westminster Presbyterian Church for a meal, some games, fellowship, praise, prayer and an inspiring message. Thomas Callen will be leading worship each Monday night. All Junior and Senior High students are welcome and encouraged to bring friends!
SUMMER YOUTH TRIPS
The summer are a very busy time for our youth group. We kickoff the summer with a mystery trip, departing for some great fun at an unknown location for a short weekend. Ask anyone who has ever been and they will tell you of the awesome adventures we have. Every year is a different location, with great activities. Annually, the junior high students participate in The Great Escape for a week of praise and summer camp fun. Additionally, our senior highs have the opportunity to hike The Rock along the Ute Trails in Colorado every couple of years.
YOUTH MISSIONS
Our Youth Group regularly participates in mission work, both locally and internationally. Annually, they participate in a community wide, week long mission called Service Over Self (S.O.S.) where they stay at a nearby church campus for a week with many of the other local youth groups to serve our community for a week. Our youth group has also participated in Rivers of the World missions, along with mission work in the Dominican, Mexico, the Congo, and the Amazon. Additionally, many of our students move on to volunteer and serve on various work crews for different ministries like The Great Escape, Fun in the Son, Son of Servant and many more.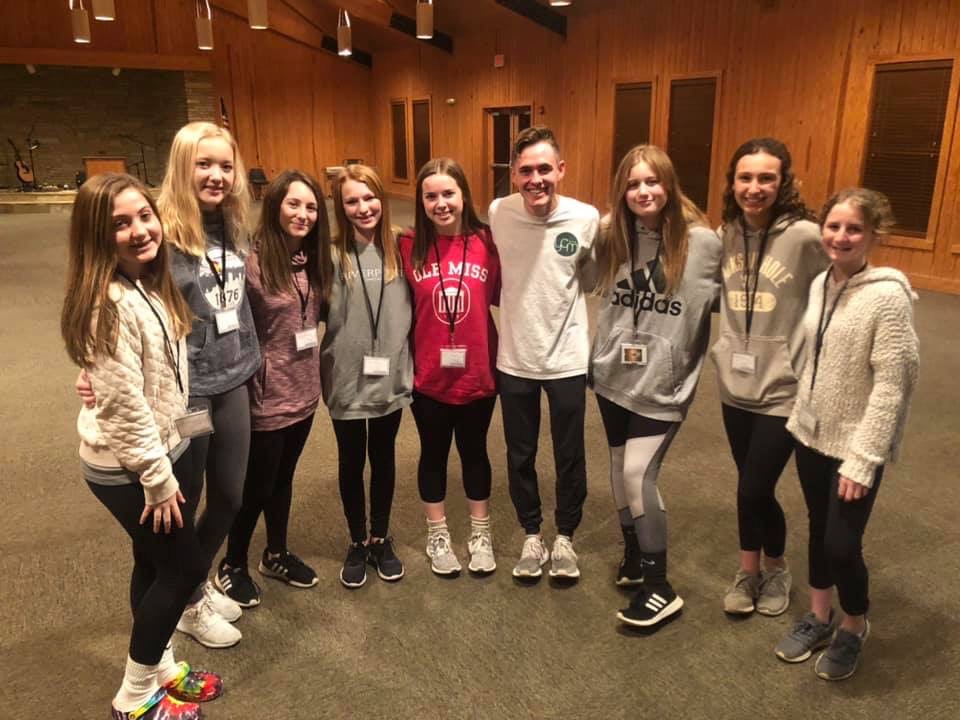 You News
SUNDAY SCHOOL
Get to the basement!! We met at 9:30am for Sunday School. We will continue to study the existence and Nature of God and begin to wrestle with Truth and our Worldview. See you soon!
EARLY MORNING BIBLE STUDY
We will start a study on 1 John at 7a.m. at the Bohemia Café & Bakery. Throughout our study we notice how John's focus is tied to life, truth, and love. We will meet every Tuesday morning. Please continue to invite your friends! See you there
FUSION
Fusion will continue until the end of May! We will take a break from Fusion over the summer. We will provide snacks at this time, and we will continue to meet from 5pm-6:15pm on Sundays. Invite your friends!!
Summer Trips
Its time to go! Please sign up and invite your friends. The deadline to sign up for trips is May4th.
Orlando Family Mission Trip
Who: All Ages
Date: June 13th– 19th
Where: Orlando, FL
Info: https://www.serveorlando.org/
Cost: $405
RYM – High School Beach Trip
Who: Rising 9th graders – rising 12th graders
Date: July 5th-9th
Where: Panama City Beach, FL
Info: www.rym.org/hsfl1
Cost: $435

The Great Escape
Who: Rising 6th graders – rising 12th graders
Date: July 26th-31st
Where: Florence, MS
Info: www.ycmhome.org/events/
Cost: $160